Internet Web Site Hosting Services
Like many companies, CCSL went through the process of reviewing various small-business web hosting services and service providers, and we chose a hosting company that offered everything we wanted at an affordable price.
But if you aren't a Webmaster or if you don't know anything about hosting services, how do you know which criteria should be important?
Here are some of our MUST-HAVE web hosting criteria:
Support available 24/7.
99.9% uptime.
Several email accounts.
For dynamic sites: PHP 5+, MySQL 5.0+ and phpMyAdmin.
For e-commerce sites: SSL certificate available (at additional cost).
Unlimited storage space.
Unlimited data transfer rate (often incorrectly referred to as bandwidth).
Easy-to-use interface (CPanel is commonly used).
Easy and free third-party application integration and installation such as WordPress.
Multiple File Transfer Protocol (FTP) accounts.
Web statistics.
We also like to manage our domain names and hosting services with one provider, but it's not mandatory. Based on these criteria and our specific needs, we chose GoDaddy's
Deluxe Linux shared hosting plan. Please note that if your site requires lots of storage space and is expected to have thousands of visitors, you should seriously consider using dedicated hosting
.
We've recently discovered HostPapa
, another hosting company that seems perfect for us (see banner on the left). We don't have any sites hosted there right now, but we intend on purchasing one of their hosting packages within a few weeks.
Stay posted and we'll share our experience with you.
SiteSell's Complete Online Business Solution
If you prefer to have everything set up for you in a nice little package, you may be interested in creating your own website using SiteSell's SBI! services. We have personally used it since 2006 and we've done the math: if you want to get the most bang for your buck while creating your own website content in-house, this is the best option we've found so far.
Annual subscription includes the following and more: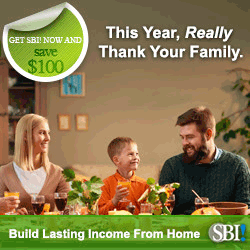 Domain name registration/renewal
Reliable hosting
Webmail - unlimited email accounts
Free Website templates
Code-free approach to creating web pages
Link exchange program
Keyword research tool
Search Engine Optimization (SEO) process
Automated XML sitemap creation
Helpful tutorials and forums
Newsletter services
Detailed statistics
In a nutshell, SBI! is perfect for small businesses who want to create and maintain their own websites in-house without touching a single line of code. SBI! takes you by the hand and shows you what you need to learn in the exact order, so you don't feel overwhelmed.
If you already know how to code web pages, don't worry! You can also create your own pages and upload them. Learn more about SBI! and see how it compares to other options.
Need Help Choosing your hosting services?
Wondering which small business web hosting provider would be best for you? Here is one way to look at it:
SBI! if you have time to take care of the website creation process in-house AND want to create a site with LOTS of content that will result in more visitors and higher search engine rankings.
GoDaddy with a free WordPress account if you want to minimize your fees. You should do your own Search Engine Optimization (SEO) research and manage your website SEO and Social Media with a service like Raven (Free 30 Day Trial). If you want a newsletter, you will have to pay extra to use a service like AWeber.
If you choose one of these options and are NOT satisfied with the various free templates that are offered by SBI! or WordPress, we would be glad to design a unique template that will work with your selected platform. Contact us to request our services and we'll send you a quote as soon as possible.
We can also help you with any step of the website design and development process, no matter which hosting services you choose.